Crock-Pot Pineapple Chicken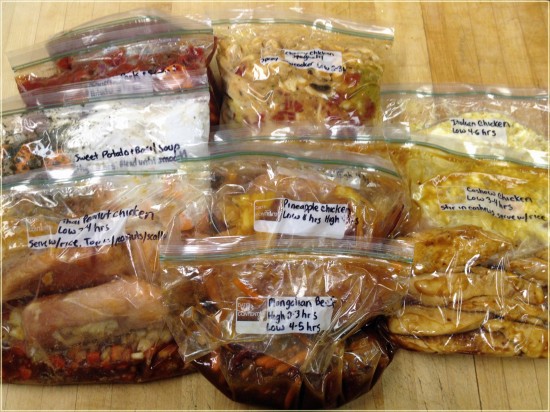 3-4 boneless skinless chicken breasts
1¼ cup white sugar
¼ cup soy sauce
½ cup pineapple juice (can use juice from crushed pineapple can)
½ cup ketchup
2 tbsp Red Wine Vinegar
1 tbsp mustard
1 16oz can crushed pineapple or pineapple tidbits
In a small saucepan over medium heat, mix together sugar, soy sauce, pineapple juice, ketchup, vinegar, and mustard. Bring to boil and cook until well combined, about 3-4 minutes. Set in fridge to let cool.
Once cooled combine all ingredients in a gallon sized ziplock bag. Seal closed and place in freezer.
When ready to use thaw in fridge for 24 hours, place thawed contents in crock-pot and cook on low for 7-8 hours or high for 4 hours.
Serve over rice.
Recipe by
Mommy's Fabulous Finds
at http://www.mommysfabulousfinds.com/2014/03/crockpot-freezer-meal-recipes.html