Garlic Parmesan Pizza Cups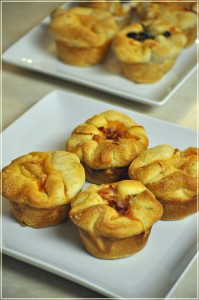 1 can (16.3 oz) Pillsbury Grands! refrigerated biscuits
¼ cup grated Parmesan cheese
2 Tsp Garlic Powder
2 Tbsp melted butter
1½ cups shredded Mozzarella Cheese
Jar of pizza sauce
Choice of toppings (olives, bacon, pepperoni, ect)
Heat oven to 350°F.
Separate dough into 8 biscuits; using a roller flatten each biscuit to about 5 inch round
In a small bowl mix garlic powder and Parmesan cheese together.
Brush butter onto top of flattened biscuit and sprinkle with Parmesan Cheese mixture
Press 1 biscuit at at time in bottom of ungreased cupcake pan.
Add 2 Tbs of pizza sauce, top with cheese and choice of toppings
Bake for 17 minutes or until top starts to lightly brown.
Recipe by
Mommy's Fabulous Finds
at http://www.mommysfabulousfinds.com/2013/12/easy-entertaining-recipe-for-the-holidays-garlic-parmesan-pizza-biscuit-cups.html