A couple of months ago I started meal planning with crock-pot freezer meals. They have been a huge help and make dinner time not only easier but stress free. I no longer have to worry about what I am cooking last minute, or run to the store to grab take-out since we have nothing prepped at home. When we come home from sports or other activities, I know there is a warm meal all ready in the crock pot.
We recently used up all of our crock pot freezer meals so I decided to compile a new list of recipes to try. I tried to use ingredients that we already had in the pantry or fridge/freezer, and made a grocery shopping list of ingredients that I needed to pick up. I separated all of the ingredients on the counter, got all of the meat and veggies prepped, and prepared all 10 meals at one time.
Tips for Prepping Easy Crock Pot Freezer Meals:
Shop sales & stock up on meat.
Search & print out recipes.
Make a grocery shopping list of the ingredients needed.
Prep meals in one setting – Take gallon zip lock bags and write the names and directions on each one in permanent marker.
Lay everything out on the counter, wash/cut/slice up all the veggies. I also cut the fat off the chicken breasts & thighs.
Start filling the bags with ingredients. I usually do one at a time, but you can start with putting veggies in all the bags, then the meats, then the spices & sauces.
Zip close. Place in freezer.
When ready to use, thaw in fridge over night. Then empty contents out of the Ziploc bag and into the crock-pot.
I don't know the estimated cost for all meals as I stock up on meats and canned food when on sale. You can always add in extra ingredients/change the recipe to your family's liking, these are meals and ingredients that our family enjoys. Between my husband and I's work schedule, the 4-6 hour meals work best for us which is why most of the recipes are not for 8-10 hour days, I also always have never placed the ingredients in frozen – always thawed, so I'm not sure the cooking time if frozen.
The meals are cooked for 2 adults and 2 young children (ages 3 & 5), and there is always leftovers for lunch the next day. Cooking times may vary depending on your type and size of slow cooker.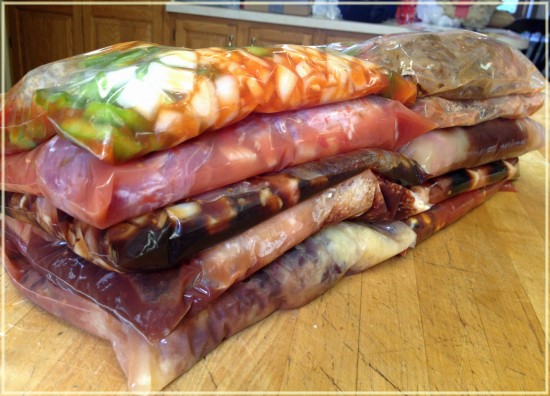 Here are 10 more easy crock pot recipes, you can also view the list of the 23 Freezer Meal Recipes that our family enjoys.
Not familiar with Ro-Tel? It is diced tomatoes mixed with green chilies & spices. You can see what it looks like here.
Additional Crock-Pot Recipes:
 

 Recipes originally found at – adapted from

Apple BBQ Pork Tenderloin

,

Pineapple Chicken Burritos

,

Southwestern Chicken Chili

,

Pork Carnitas

,

Honey Bourbon Chicken

,

Sausage & Peppers,

Savory Pepper Steak

,

Sweet & Sour Meatballs

.