The Walgreens "Up Market: Fresh" experience is coming to Boston this week to help celebrate the fresh foods that will be available at the new Walgreens "flagship" store located at the corner of Washington and School Street. The flagship store will offer a variety of products and services that are unexpected from a drugstore and will be opening on May 1st.
The Walgreens "Up Market: Fresh" 40 ft bus will be serving free samples of a variety of foods & drinks that will be available in the new flagship store on 24 School St in Boston. Free Samples will include: smoothies, juices, two flavors of low-fat frozen yogurt and a selection of coffees.
Where:
Walgreens "Flagship" Store Plaza – 24 School St., Boston, MA
When:
April 28th, 10AM-2PM
April 29th, 10AM-2PM
April 30th, 9AM-Noon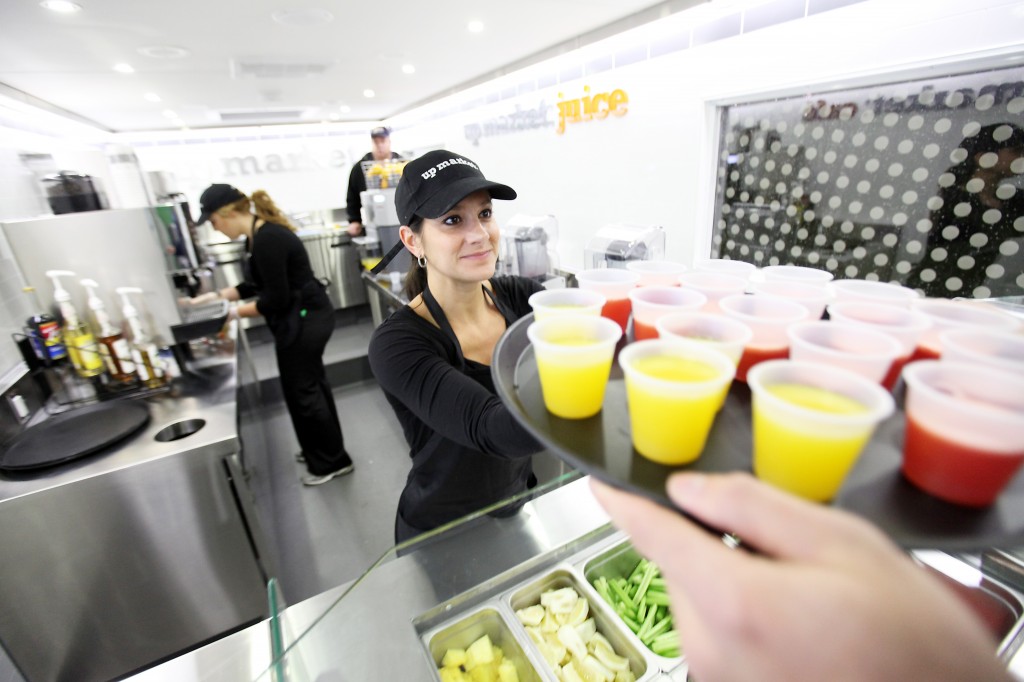 I have noticed drugstores expanding their offerings in recent years, not only can I pick up our prescriptions and cold medicine, but I can pick up holiday decorations, photos, and food for our pantry, and now I can pick up fresh fruits and a smoothie! We spend a lot of time in Boston and I was excited to hear about the new Walgreen's Flagship store that will be opening next week. Walking into Walgreens to pick pick up a smoothie will be quite strange, but I can sure get used to it!
Stop by the mobile tasting tour in Boston from April 28th through April 30th and get an idea of what to expect in the new Walgreens "flagship" store.
Walgreen's Gift Card Giveaway:
To help celebrate the Walgreens "Up Market: Fresh" Experience coming to Boston, two lucky readers will each win a $25 Walgreens Gift Card that you can use to purchase some of the new fresh offerings! To enter, simply fill out the form below to enter.
Visit Giveaway Rules. This giveaway will end on May 11, 2013 at 11:59pm EST. The winner will be chosen via Rafflecopter. The winner will have 24 hours to respond or a new winner will be selected. You must be 18 years or older. Open to U.S. residents.
Disclosure: Giftcard, giveaway prize and information have been provided by the representing PR/Sponsor. All opinions are my own.