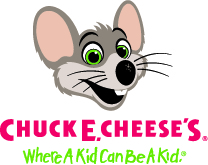 A few months ago the boys were invited to a birthday party at Chuck E Cheese, they had a great time and are always asking to go back, especially when they catch the Chuck E. Cheese commercial on T.V. which seems to be at least a couple times a week. "Mom, can we go there, pretty please!!!" When I was invited to check out the new Say Cheese! app at our local Chuck E Cheese's I couldn't pass up a fun filled afternoon with my boys. We decided to go mid week around lunch time, I  figured it would be quite, but didn't think it would be that quiet. We were there for a couple of hours and I think at most there was four- five families that visited in total.  The last time we went was a Saturday and the place was mobbed, it was hard to keep track of the boys especially since they both wanted to play different days. This past visit was much more relaxed and we pretty much had the place to ourselves, it was great.
The Say Cheese! app is a free augmented reality app that works only at Chuck E. Cheese's, it can be downloaded from the App Store or it is also available to download as an Android App on Google Play. When you visit your local Chuck E. Cheese, you will notice a number of "Say Cheese Here!" signs all over the store. Open the app and point it at the "Say Cheese Here!" which will activate the app's augemented reality camera, Chuck E. Cheese will come to life! You can take your picture with Chuck E. Cheese and easily save the picture to your phone as well as share it via Facebook and Twitter, or by email. The signs will be in pink, orange, and blue so make sure to check out all three as they will each offer different poses.
The boys were too overwhelmed for lunch when we first arrived at Chuck E. Cheese's so they decided to play games for a bit before they would sit down and eat their Pepperoni pizza. When they finally got over their initial excitement of game play I had them come over to the table where I spotted a Say Cheese! sign. I opened the app on my iPhone and took a picture, Tyler was amazed and couldn't figure out how Chuck E. Cheese appeared in the picture, he kept looking for him on the table.
There are plenty of Say Cheese Here! signs so numerous visitors can take pictures at the same time,and there's no need to wait in line. At our local Chuck E. Cheese there was one at every single table as well as scattered throughout the store on the ends of tables and on the ticket counter machine. The boys enjoyed walking around seeing all of the different poses that the signs offered.
Not only did the boys enjoy eating one of their favorite foods, pepperoni pizza, but they got to dance with Chuck E. Cheese, play games, run through tunnels and down slides, and pose for pictures with the fun new augmented reality Say Cheese! app.
Download the Say Cheese! app  for free today!

Connect with Chuck E. Cheese's
Chuck E. Cheese Giveaway!
Thanks to Chuck E. Cheese's one lucky reader will win a Guest pass that is good for one large pizza, four soft drinks and 30 tokens! To enter, simply fill out the form below.a Rafflecopter giveaway

Visit Giveaway Rules. This giveaway will end on May 6, 2013 at 11:59pm EST. The winner will be chosen via Rafflecopter. The winner will have 24 hours to respond or a new winner will be selected. You must be 18 years or older. Open to U.S. residents.
Disclosure: The product, giveaway samples and information have been provided by the representing PR/Sponsor. All opinions are my own.