A few weeks ago I was trying to figure out something to make for Jacob's preschool graduation, I figured plenty of people would be bringing cupcakes, cookies, and brownies so my search went on for something that was nut free and semi easy to make. My husband mentioned Oreo Truffles, I made them about a year ago, he must have really liked them because he doesn't request desserts too often.
I came across this Oreo Truffle recipe and decided to give it a try. Let's just say if you are looking for something quick to make, and you've never made them before, you will need a lot of patience.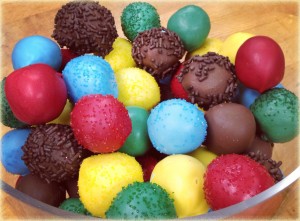 Oreo Truffles
Ingredients
1 lb Oreo's
8 oz cream cheese
1.5 lbs chocolate
Chocolate sprinkles, white chocolate, ground almonds (optional for decoration)
Instructions
Grind the Oreo's in a blender or food processor until they become a fine powder.
Using a mixer, blend the cream cheese and Oreo powder until no cream cheese can be seen, about 2-3 minutes.
Roll into small or large balls and place on a parchment paper-lined cookie sheet (I used a scooper, helped me make them all the same size) Let chill for 45 minutes or even overnight.
After melting chocolate in a double-boiler or in a microwave, use a toothpick to dip each ball into the chocolate. Be sure to allow the excess chocolate to drip back into the melted chocolate to allow the truffles have a neater look. (If chocolate is to thick, add a tsp of shortening.) Place on a second cookie sheet to set.
Once the chocolate has set, decorate each truffle with white or dark chocolate, sprinkles or almonds. To get stripes, putting the melted chocolate in a small plastic bag and cutting the tip worked best.
Once the chocolate hardened and the truffles were refrigerated they tasted delicious, they were very rich in flavor so if the truffles were any larger I think it would be too much. I snuck a couple before we brought them to Jacob's graduation and I wish I saved a few for at home. Once word got around about how delicious they were they went quick. All the parents, kids, and teachers were commenting on how good they were. Although they were a little time consuming they were definitely worth all of the work.
Update: We have made these Oreo Truffles a few times the past year and they are always a huge hit, we made them in Christmas colors for Jacob's preschool holiday party, we have also made them for 4th of July, and  Jacob's birthday party.
One Response to Oreo Truffles Recipe